VOLUNTEER OF THE YEAR AWARD
VOLUNTEER OF THE YEAR AWARD
This is a concept that SHC-SA introduced in 2010/11 season to encourage and recognise the help of our awesome volunteers. We want to recognise their contribution to helping SHC-SA run and as such we are taking note of those assisting with the running of our shows. This award is presented at our AGM each year.
There will be a Junior and Senior Award (where appropriate) to recognise and thank people who have helped at SHC-SA events whether it be stewarding, doing the PA or just generally helping the committee.
2012/13 Junior Volunteer of the Year - Zoe Bradley
2012/13 Senior Volunteer of the Year - Sarah Sypher
We thank each and every one of you for your help no matter how big or small at our shows, and wish you good luck in the awards this year.
2013/14 Junior Volunteer of the Year - Hannah Bryce
2013/14 Senior Volunteer of the Year - Alastair Sellars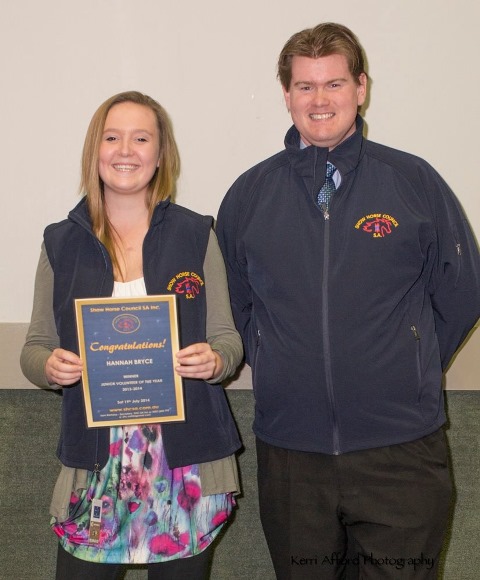 Junior Volunteer for 2013/14 Hannah Bryce, Senior Volunteer 2013/14 Alastair Sellars. Photo credit: Kerri Afford Photography